First Group of Australian Volunteers for 2014 have arrived in Tonga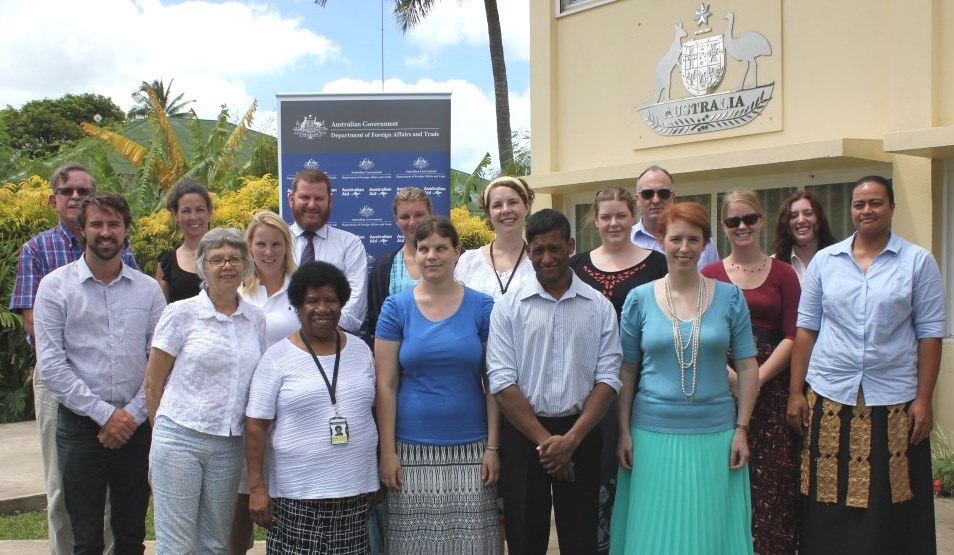 Photo: The new group of volunteers with Australia's High Commissioner to Tonga, HE Mr Brett Aldam and staff of the Australian High Commission and Austraining International.
A new group of Australian volunteers arrived in Tonga last week as part of the Australian Volunteers for International Development (AVID) program. This new group consists of ten volunteers who will work within Tongan Government ministries and non-government organisations, in support of Tonga's development goals.
The volunteers will be working in various areas including health, disability, governance, youth, and vocational education. The Tongan Government has identified these as key areas for the development of the country, hence the placements of these volunteers in a variety of fields.
Monique Moloney, who will be working with the Tupou Tertiary Institute (TTI) as a Learning Services Officer, is excited to be in Tonga.
"I'm excited for the opportunity to work in the Tongan education sector and to be a contributing member of the community at a grass roots level. I'm looking forward to building on the ground-work of my predecessor and getting the learning centre at TTI up and running for both teachers and students to utilise and enjoy," said Ms Moloney.
Most of the volunteers will be in Tonga for a period of 12 months, and will be placed in the following organisations: Tonga Red Cross Society, National Reserve Bank of Tonga, Tonga Health Promotion Foundation, Ministry of Health, Ministry of Internal Affairs, 'Ahopanilolo Technical Institute, Ministry of Revenue & Customs, Ocean of Light International School, Ma'a Fafine moe Famili and Tupou Tertiary Institute.
AVID is a key part of Australia's aid program, and Australian volunteers play a vital role in encouraging development. Volunteers work with local counterparts to support the skills of local staff. This ensures a lasting benefit to the organisations long after the volunteers' assignments are over.
Should you wish to know more information on the AVID Program in Tonga, please contact David Wyler, In-Country Manager, Austraining International, at 26464, or email [email protected]