Australian Foreign Minister visit to Tonga
Australia's Minister for Foreign Affairs, Ms Julie Bishop, visited Nuku'alofa on Friday 2 April to highlight Australia's close economic and security relationship with Tonga.
During her first visit to Tonga as Foreign Minister, Ms Bishop met with Prime Minister Pohiva and his Cabinet to discuss Tonga's important economic and political reform agenda.
Ms Bishop also launched the New Colombo Plan in Tonga. Sixteen Australian students from two Australian tertiary institutions are set to gain valuable learning experiences and develop personal networks in Tonga in 2015.
The visit also provided the opportunity for Ms Bishop to inspect aid, defence, and policing investments; and consider means to promote the private sector, and economic and political participation of women in the Pacific.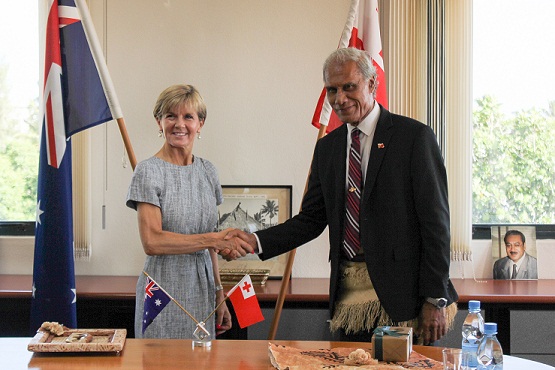 The Hon. Ms Julie Bishop, Australian Minister for Foreign Affairs, met with the Hon. 'Akilisi Pohiva, Prime Minister of Tonga to discuss the warm relationship between the two countries.
Read the full press release here.